Are You Happy?
The World Values Survey, a study released in December 2007, shows that among all of the 194 counties in the world, the United States ranks as the 23rd happiest nation on earth. Does that surprise you as much as it did me? I would have thought that a nation whose constitution guarantees its people the right to "the pursuit of happiness" would have ranked higher, wouldn't you? It can be hypothesized from the lower than expected ranking, that the U.S. is not as happy a nation as we should be; meaning that we have a relatively sizeable amount of unhappy people. With the freedom and prosperity we enjoy, this is somewhat puzzling.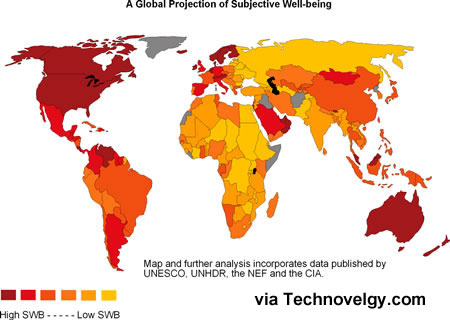 So what are the keys to personal happiness? Where you live? How much money you have?
According to the study, these are not the key contributing factors. If they were, we would all move to Hawaii, right? Well, actually, Hawaii ended up in 2nd place among the happiest places in the U.S. to live (And you thought Disneyland was the happiest place on earth, didn't you?) In fact, the happiest people in America actually live in South Dakota.
Now, I suppose you would like to have me explain that one. Well, okay, here goes. We can only conclude from the results of this study that happiness has nothing to do with climate, material wealth, or fame and popularity. So there must be something else to it. According to Dr. Ron Inglehart, director of the World Values Survey, there is.
Dr. Inglehart has discovered 10 keys to happiness, as evidenced in the findings of the survey. They are:
1. Genetic propensity to happiness
2. Marriage
3. Strong friendships
4. Desire less
5. Do good
6. Have faith
7. Stop comparing
8. Make more money
9. Embrace age
10. Don't worry
Notice how far down making more money placed on the list? And since most of us have no idea whether or not we have a genetic propensity to happiness, we know can't control that (oh-oh, one more thing we can blame on our parents), however, we can focus on the other factors that appear to bring about happier lives. According to the study, the happiest people living in the U.S. don't just reside in South Dakota. Regardless of the part of the country in which they live, they are: married, have children, attend a place of worship regularly, and adhere to a set of moral values. And according to Dr. Inglehart this not only makes up happier, but also makes us healthier.
Case in point is a study reported in the Journal of Psychosomatic Medicine, in which Dr. Sheldon Cohen of Carnegie Mellon University examined happy people, sad people, and the connection of each to the common cold.
Dr. Cohen injected 334 participants with the rhinovirus, the germ that causes the common cold. Sad people got the cold while happy people had no change in initial status. Cohen's reasoning was simple: symptoms of a cold are caused by a release of chemicals that makes us sick; yet happy people naturally combat the release of these chemicals because of increased levels of so-called "happy" hormones which offset the common cold. According to Cohen's study, those who are happier are indeed healthier. Perhaps laughter is indeed the best medicine after all?
So, I'll go back to my initial question: Are you happy? If you are, then either you are tracking well with Inglehart's 10 keys (or you recently moved to South Dakota!). If not, and you are sick and tired of being sick and tired, then maybe it's time to pursue real happiness by pursuing those 10 keys.
Throw your energies into strong, significant relationships. Make do with less. Give more of yourself, and your resources, to the benefit of others. Embrace faith and your age – one will change you and the other you can't change anyway. Stop comparing and worrying – you cannot gain one good thing from either.
You have the right to pursue happiness, so go after it and live healthier, longer and with greater peace.
…or you could always check out those real estate prices in South Dakota.